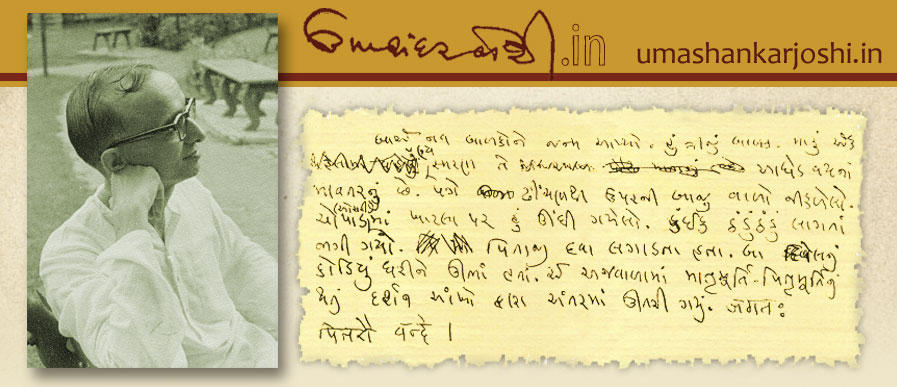 umashankarjoshi.in>LIFE> Chronology
ઉમાશંકર જોશી: જીવનક્રમ (ગુજરાતી)
Umashankar Joshi: Chronology
---
1911
Birth: July 21
Birthplace: Village Bamna in erstwhile state Idar state (now in Sabarkantha district of Gujarat State).
Father: Jethalal Kamalji. Born in a Brahmin family. Originally belonged to village Lusadia situated in the hilly region near Shamlaji. Educated till seventh class in the Missionary school of Lusadia. Karbhari (minister) in small jagirs (principalities).
Mother: Navalbai. Daughter of Bhaishankar Thakar. Had no formal education. Mother of seven sons and two daughters: Ramshankar, Chhaganlal, Umashankar, Chunilal, Pranjivan, Kantilal, Jashodaben, Kesarben, Devendra
---
1916
'Yagnopavit' - thread ceremony. Later discontinued wearing it.
---
1916-1920
Education at Primary school, Bamna.
---
1921-1927
Passed standard fourth in Idar school. Continued education at Idar's Pratap High school (Anglo-vernacular school).
---
1927-1928
Matriculation from Proprietary High school, Ahmedabad.
---
1928
Admission in Gujarat College, Ahmedabad. Continued education there till 1930.
---
1929
Participated in the 34 day strike called by the students of Gujarat College which began in January.
---
1930
Took active part in the Freedom Struggle. Joined Viramgam Camp as a satyagrahi from early April.
---
1930-1931
Imprisoned for fourteen weeks starting from November 1930: in Sabarmati jail and tent-jail at Yaravada.
---
1931
Attended National Conference of the Congress at Karachi.
Stayed at Gujarat Vidyapith from July for six months.
---
1932
Imprisoned for the second time for eight months, at Sabarmati and Visapur jails.
---
1934
Death of father in April.
Admission in Elphinstone College, Mumbai for B.A.
---
1936
Graduated with second division in Economics and History from Mumbai University.
Active participation in establishing 'Progressive Writers' Association' in Mumbai.
---
1937
May 25: Married to Jyotsna N. Joshi (a graduate of Karve University) in Ahmedabad.
Teacher at Goklibai High School, Vile Parle, Mumbai.
---
1938
Passed M.A. with first division in Gujarati and Sanskrit from Mumbai University.
Part time lecturer at Sydenham College of Commerce, Mumbai - till 1939.
---
1939
Appointed professor in post graduate research studies department, at Gujarat Vernacular Society (Gujarat Vidyasabha).
---
1941
Birth of daughter Nandini.
---
1944
Edited 'Budhdhiprakash' journal from April '44 to Jul-Sep '46.
---
1946
Voluntary retirement from Gujarat Vidyasabha.
---
1947
'Sanskriti' monthly launched in January.
---
1948
Appointed by Mumbai Government on the Gujarati Textbook Committee.
Birth of daughter Svati.
Toured Uttarpradesh, Bihar, Bengal and Orissa with mother and Jyotsnaben's maternal aunt in November-December.
---
1952
A tour of 54 days to attend Peace Conference of Asian and Pacific Nations in Beijing, China along with Ravishankar Maharaj and others.
Visited Singapore, Java, Bali, Malaysia and Srilanka while returning from China.
---
1953
Served as a visiting faculty at Lokbharti Shikshan Sanstha, educational institution, Sanosara, Bhavnagar dist.
Wrote column 'Sahitya Sadhana' in 'Sandesh' daily for one year.
---
1954
Member of the General council and the executive committee of National Sahitaya Akademi, Delhi from its inception on March 12.
In June, appointed professor of Gujarati Literature at Gujarat University. Also appointed head of School of languages, Gujarat University.
---
1955
Started 'Gangotri' Trust.
---
1956
Became a member of Lalit Kala Akademi as a representative of Sahitya Akademi.
Tour of America and England as a member of a committee sent by the Indian Government for the study of activities of 'General Education' in American Universities and England.
Attended P.E.N. International conference in London. Visited France, Germany, Switzerland, Italy, Greece and Egypt.
---
1957
Attended P.E.N. international conference in Tokyo-Kyoto.
Presided over a section at 'Akhil Bharatiya Lekhak Parishad' - Calcutta.
Shifted to his own residence 'Setu', 26, Sardar Patel Nagar, Ahmedabad.
---
1959
Delivered lectures on 'Kavitavivek' in the 'Thakkar Vasanji Madhavji Lecture Series' in Mumbai.
Tour of Kumaun in the Himalayas with family.
---
1961
April 13: Chairman and Chief Guest at 'Vishuvmilan' - annual meet in Cuttack of authors writing in Oriya language.
September 30-October 2: Attended 'National Integration Conference' as one of the 150 members invited by Jawaharlal Nehru from all over India.
October 5-October 29: Toured the USSR as a member of a group of five authors representing the Indian Government.
Inaugurated 'Rabindra Janmshatabdi Adhiveshan' (Rabindranath Tagore Birth Centenary Conference) organized by Nikhil Bhart Bang Sahitya Sammelan at Joda Sanko, Calcutta.
---
1962
Presided over a section of the 24th conference of P.E.N. held at Mysore.
Tour of Goa with familiy along with Marathi and Konkani authors.
---
1964
January 17: Death of wife Jyotsna Joshi.
Member of a committee appointed by the Government of Gujarat for establishment of South Gujarat and Saurashtra Universities.
Tour of Gangotri with daughters.
---
1965
Appointed member of the advisory committee of National Book Trust.
---
1966
Appointed member of the 'Kendriya Bhasha Salahkar Samiti'.
November 30-November 17, 1972: Vice Chancellor of Gujarat University.
---
1967
February 5: Death of mother.
President of the 24th convention of the Gujarati Sahitya Parishad, held in Delhi.
---
1968
Chief guest at 'Akhil Bharatiya Kavi Parishad' in Calcutta.
Member (1968-1969) of the Central Board of Film Certification (censor board).
---
1970
April 3-April 2 1976: Member of Rajya Sabha nominated by the President of India. In the wake of this appointment, resigned from the post of honorary professor and head of the School of languages of Gujarat University.
Delivered the convocation lecture at the 51st Convocation of Nagpur University.
Attended P.E.N. international conference in Seoul, South Korea. On the way attended Asian Literary Meet in Taiwan and visited Expo in Kyoto, Japan.
As the head of Vice Chancellor's association, visited West German Universities.
Member, Review Committees of National Academies and Indian Council for Cultural Relations (1970-72).
---
1971
February2: Convocation Lecture delivered at Shantiniketan.
---
1972
'Nishith Puraskar Granthmala' a series of books of translations started by 'Gangotri Trust'.
---
1973
Tour of France, Hungary and West Germany under Cultural Exchange Scheme. Attended International Conference in Paris. Also visited England.
Attended conference on world religion held at Kyoto, Japan.
Vice President of Indian P.E.N.
---
1975
Toured Assam, Meghalaya, Manipur, Nagaland in October. Lectures on the 'Epic' at Imphal Academy.
---
1976
President, Bharatiya Jnanpith award committee..
Toured Andamans in March.
President, 'Akhil Hind Sharatchandra Janmashatabdi Mahotsav Samiti' [All India Saratchandra Birth Centenary Festival] Calcutta.
---
1977
Member of Verghese Committee, a working group set up for the autonomy of Doordarshan and Aakashvani.
Inaugural Lecture delivered at Iqbal International Seminar at Delhi.
---
1978
President, National Sahitya Akademi, till 1983.
March: President of the Golden Jubilee celebrations of The Kuppuswamy Sanskrit Sahitya Academy, Madras.
September: Took part in the celebrations of The 150th anniversary of Tolstoy's birth in Russia at the invitation of the Writers' Association there.
Two lectures in English on the medieval Gujarati poet Akho delivered at Chandigarh University at Baba Farid Medieval Indian Literature Studies Department.
Honorary chairman, Indian Institute of Mass Communication, Delhi (till 1980).
Member, National Book Trust.
---
1979
Acharya (Chancellor) of Vishvabharati, Shantiniketan from September 1979 to September 1982.
President, Acharya Kshitimohan Birth Centenary Committee, Calcutta.
---
1980
Toured 14 European countries with both daughters.
---
1981
May-June: At the invitation from writers association, attended their conference in Russia.
September 14-16: Inaugural lecture at the National Conference on Bulleshah and Puran Sinh.
Visited China to attend the centenary celebrations of modern chinese author Lu Xun at the invitation of the writers association.
Chairman, Golden Jubilee Celebrations Committee for the 'Jayshree' periodical established by Leela Ray in Calcutta.
Chaired International Kalidasa Goshthi Week in Ujjain.
---
1983
Member, Press Council of India.
---
1984
Decided to discontinue the publication of 'Sanskriti'.
---
1985
President, Indian P.E.N.
March 13-14: Lectures on the Mahabharata under the aegis of Sanskrit Academy in Madras.
---
1986
At the invitation of the Gujarati Literary Academy of North America, visited USA and Canada.
Chief guest at the Kampur Sahitya Sammelan, Assam.
---
1987
Chairman of the Indian National Comparative Literature Association.
---
1988
December 19, Monday: died at the Tata Memorial Hospital, Mumbai, succumbing to lung cancer.